Canadian Visa Professionals - Immigration to Canada
We are a team of professionals who'll make sure that the process of applying for a Canadian permanent resident visa will go as smoothly as possible. Canadian Visa Professionals is here for you all the way, in collaboration with the authorized immigration consultants we subcontract, to make sure that the process is done in the best way possible.
The mission of CanadianVP is to work with authorized immigration consultants to make the application process for immigration to Canada go as smoothly as possible for you and your family. The Canadian immigration process is facilitated by providing you with an eligibility assessment to determine which visa program best matches your profile, as well as guidance from the authorized immigration consultants to correctly prepare and submit your Express Entry profile and Canadian visa application with the required documents correctly and efficiently. You will be given regular updates about the status of your application and can receive answers to questions you may have about the process.
Does everyone need a representative?
Basically, a person can apply for Canadian immigration on their own; however, having experienced immigration consultants guide you through the process can make the process easier for you and help you to avoid mistakes. 
How official is Canadian Visa Professionals?
CanadianVP is a private company that subcontracts Great North Immigration Inc. to perform eligibility screening of profiles of canadianvp.com end-users. This service is provided in accordance with our Terms of Use (authorized representatives) and under the terms and conditions made available by Great North Immigration Inc.
Canadian Visa Professionals (CanadianVP) is not an agent of Great North Immigration Inc. or its consultants. Great North Immigration Inc. is managed and operated by Mr. Amir Shuval and Ms. Sigal Barak, who are both experienced Canadian immigration consultants. Their status as "Authorized Representatives" pursuant to Canada's immigration law allows them to represent individuals in a wide range of Canadian immigration matters before federal and provincial immigration authorities.
Canadian Visa Professionals (CanadianVP) is not an official government agency, but rather is a private company, and we do not have ties to the official authorities and cannot approve anyone for a visa to Canada. Only the Canadian government can approve and issue a permanent resident visa to Canada. The professional immigration services provided to the clients of Canadian VP are conducted by the authorized immigration consultants who we subcontract.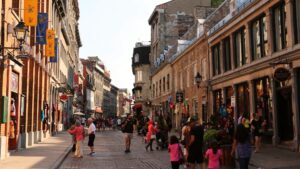 Canada's population has reached a new milestone of 40 million residents. According to Canadian Visa Professionals, the immigration policy by the government has helped boost
Read More »